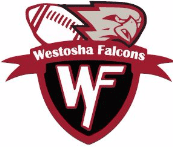 Secure your athlete's spot for Westosha Falcons Youth Football (WFYF) Fall 2020 action today!
Teams forming now for 1st -2nd grade Fall Flag, 3rd-8th grade Fall Tackle, and 3rd-8th grade Summer Camp (July 21-23, 2020).
Visit www.westoshafootball.org to register online.
Our Heads-Up Tackling Certified league provides 100% ALL-PLAY opportunity for every athlete: Westosha Youth Falcons play to learn and learn to play! Our commitment to player development, positive coaching, academics & citizenship, and sportsmanship prepare our athletes for seamless transition to the Westosha Falcons High School football program.
$200 Tackle league fee.
$75 Flag league fee.
$50 Summer Camp fee.
Sibling and referral discounts & flexible payment plan available.
Please contact westoshayouthfootball@gmail.com with questions or for more information.