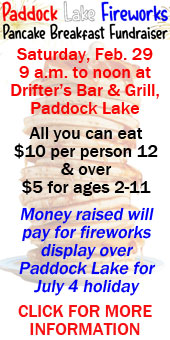 Note: This is a paid announcement from Paddock Lake Fireworks Inc. — DH
Paddock Lake Fireworks Inc. will host its first fundraiser for funding a fireworks display over Paddock Lake on Feb. 29 from 9 a.m. to noon at Drifters Bar & Grill in Paddock Lake.
Tickets are: $10 for ages 12 and up and $5 for ages 2 to 11. Breakfast includes all you can eat pancakes, scrambled eggs, sausage and orange juice. Drink specials with 20 percent of all bar proceeds being donated to the Fireworks during the breakfast!
There also will be raffles and guest bartenders throughout the breakfast.
Raffle prizes and cash donations also needed. If you're interested in helping reach out at: plfireworks@yahoo.com.
More information on the event and Paddock Lake Fireworks, Inc. available here.