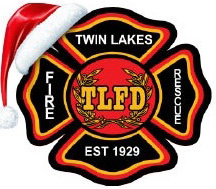 Santa will be visiting children at the Twin Lakes Fire Department station on Dec. 7 from 10 a.m. to 2 p.m.
Kids can have their photo taken with Santa at the event. There also will be cookies and drinks available.
The Twin Lakes Fire Department and Rescue Squad station is located at 236 E Main St., Twin Lakes.
Santa will also be out driving around that morning around town. Be looking for him in your neighborhood!