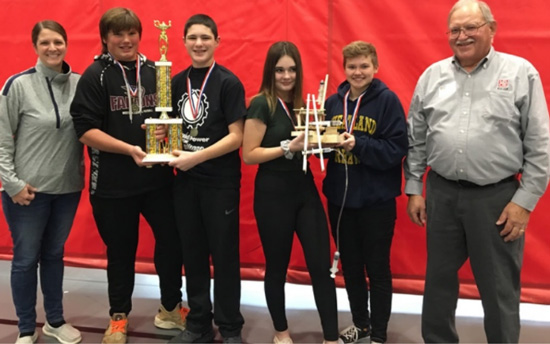 In their third year competing in the Fluid Power Challenge at MSOE, students from the PATHS Academy at Wheatland Center School outperformed 26 other teams to win the Overall Champion Award.
Wheatland students left for Milwaukee early on Nov. 11 amidst the falling snow and came back with the coveted hardware.
Students from all over Milwaukee participated in the event held at the Milwaukee School of Engineering. Each group had 5 weeks to design a machine that uses hydraulic and pneumatic power that can rotate, lift, and grab an object and move it on a challenge board in order to score
points.
"It was easier this year because I knew what to expect, but it was still
challenging to build an efficient machine to accomplish the task," said WCS student Mason Biehn.
As teams worked on the Challenge scenario and design, they also developed a portfolio which included design ideas, isometric and orthographic drawings with construction notes, and evaluations of their prototypes. At the competition, teams are asked to build their machine from scratch in 3 hours and are judged on their safety, teamwork, portfolio, judges' interview questions, and the functionality of their machine on the Challenge Board.
"The constraints and project management were the toughest parts of this project." said student Jaini Beck. "Once we had a plan for our prototype it was much easier to get everyone involved and ready for Challenge Day. I would definitely recommend this project to others,"
The judges work for various local STEM related businesses that
sponsor the event.  Through the Fluid Power Challenge, NFPA and MSOE hope to encourage students to select more mathematics and science courses and spark an interest in STEM careers.  Wheatland had three teams compete this year and it was the third year that the school brought groups to the event.
"It was an incredible experience," WCS teacher Kandi Horton said. "Wheatland students have progressively improved their performance in this challenge. It is a high pressure, timed situation with a small margin for error, and they came through in a big way.  I am always amazed at the commitment students give during the process and how they push through failure to achieve success."