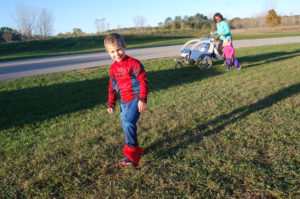 Note: This is a paid announcement from Friends of the Community Library. — DH
The third annual 4K Halloween Hustle, sponsored by the Friends of Community Library, will be held rain or shine on Saturday, Oct. 19 at the KD Park, 8530 352nd Ave., starting at 9 a.m., ending around 11 a.m.
Halloween costumes are welcome.
Fees are $15 for adults and $5 for children under the age of 14. Light refreshments will be available after the run/walk.
Entry forms can be obtained online at communitylib.org or can be picked up at both the Salem and Twin Lakes branches of Community Library. Registrations should be submitted by Monday, Oct. 14 or at the event.
All funds raised from the Hustle will be used to supplement programs held at the library. Additional sponsors of the Halloween Hustle: Mindy Cooling State Farm; Munster Orchard and Subway (newly remodeled).