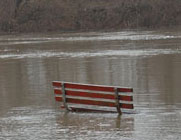 The Fox River may reach flood stage again this week after a round of anticipated heavy rain early this week.
The National Weather Service has issued a hydrologic outlook that says rain over Tuesday and Wednesday could leave the area with enough rain to cause flooding. The forecast for the Fox as measured at the New Munster gauge calls for a crest of 11 feet sometime very early Wednesday morning. Flood stage is 11 feet.
At 8 a.m., Monday, the river had risen to 9.34 feet, about a foot higher than it was 24 hour earlier.