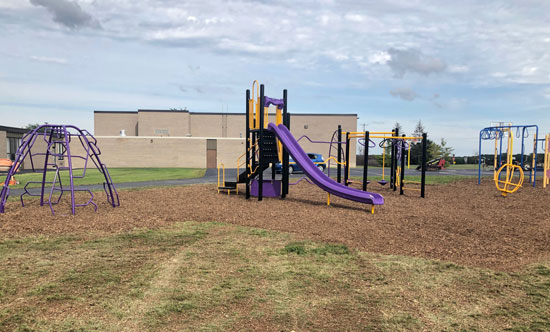 Brighton School recently ran into a little hitch in having the anticipated new playground equipment installed before the start of the 2019-20 school year.
But the spirit of community service — also known as the Brighton Way — saved the day.
The company that was going to install the equipment had a scheduling problem and by last weekend they were not going to be able to get the set-up installed before school starts Sept. 3.
In stepped the Brighton Way.
"When the playground company notified me that installation would be delayed a week and the students would not be able to use the new playground on time, I did not hesitate to ask for help," said principal/administrator Matt Eggert.  "Within moments of sending out an email to the Brighton families and making a couple of phone calls to some alumni, we had a crew ready to complete the playground project."
The project was done by Aug. 25, in time for not only the start of the school year, but also the before school year open house.
"The Brighton community rallied together to support our students like they always do," Eggert said. "We now have a new playground that will provide more outdoor fun for students in the 2019-2020 school year."