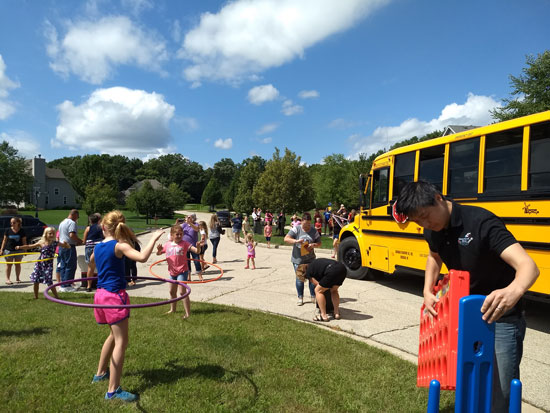 Trevor-Wilmot School staff boarded a school bus and got out into the community to host cul-de-sac parties on Aug. 22.
"We are seeking to stir up excitement for the new school year and to interact with our students, families, and community members right in their neighborhoods," said Jenny Loveless, pupil services director.
Ice cold drinks and Popsicles were given away, Trevor (the school's mascot) intereacted with families, and games and music were played. The theme was "Bubbles, Beach Balls, and Bucket Ball." About 40 staff participated.
The bus, bus driver and gas, were donated by Dousman Transport Co.
"The parents and children of our community expressed so much gratitude for the parties," Loveless said. "Everyone had an enjoyable time connecting, sharing summer stories, partaking in a cold treat, and playing games. "
Here are some more photos: