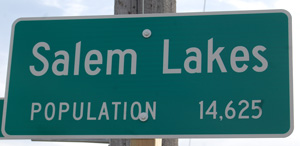 A single village wide lake district with taxing authority formed through resolution by the Village Board seemed to be out of favor among Salem Lakes Village Board members at a committee of the whole meeting Monday.
Instead, board members said they would consider petitions to form a district organized by interested citizens showing a majority of landowners within designated smaller districts, while acknowledging that will be a grueling process to organize.
"It's up to you people to do the legwork," said Trustee Mike Culat, who was chairing the meeting in the absence of village President Diann Tesar, who was sick. "If 51 percent of people in an area want this, you'll have it."
"This should be decided by the people affected," said Trustee Ted Kmiec.
Trustee Bill Hopkins said he would like to see petitions brought forward rather than have the board initiate action and received a round of applause from some audience members.
Last summer, the board briefly discussed the idea of a village wide district after Hopkins said he heard Faber was going to bring it forward. Faber acknowledged that he was researching the idea, but wasn't ready then move it forward.
On Monday, Faber said he has conducted that research and pointed out that a village wide district would spread the financial burden wider. But by the end of the meeting he said he also favored the petition process.
A lake district has taxing authority independent of any municipality. There are three lake districts in Salem Lakes: for Camp-Center Lake, Hooker Lake and Voltz Lake. Some other lakes in the village have associations, which can do fund raising for their projects and activities, but cannot tax.
At the beginning of the committee meeting, several audience members spoke in favor and opposition to the idea of forming more lake districts. Those opposed especially objected to a village wide district formed by resolution by the Village Board.
"The board should not be involved in making this decision alone," said one of the speakers from the audience, Jeff Albrecht. a former Silver Lake village president. His remarks drew applause.
Two audience members were clearly opposed to a village wide district. Two others addressed only Lake Shangri-la. Four other audience members spoke in favor of a district at least for Silver Lake. They all are active in the Silver Lake Protection Association.
Village attorney Richard Scholze explained a taxing lake district can be formed by a municipality or by a petition of affected land owners.
The first step in either process is establishing boundaries, which can be involved, Scholze said.
"There's a number of issues that someone has to look at … before you could act on a decision on whether to form a district," Scholze said.
Related posts
Village wide lake district for Salem Lakes blasted before it gets started