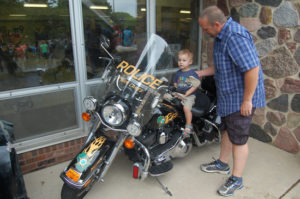 Twin Lakes National Night Out will take place Tuesday, Aug. 6, from 5 to 8 p.m. at St. John's Catholic Church, 701 N. Lake Ave., Twin Lakes.
This free event is organized by the Twin Lakes Police Department and all residents are invited to participate. Those who attend can see K-9, taser and fire demonstrations, fire department ladder races, police department vehicles and equipment, door prizes, food
and lots of fun.
National Night Out is a yearly event organized by local police and fire departments around the nation. This event is intended to build relationships between the police and residents, heighten crime and drug prevention awareness, promote neighborhood watch, and generate support for local anti-crime efforts.
Food is going to include BBQ from 10-73Q BBQ Company, LLC and brats / hot dogs cooked by the Twin Lakes Fire Department while supplies last.