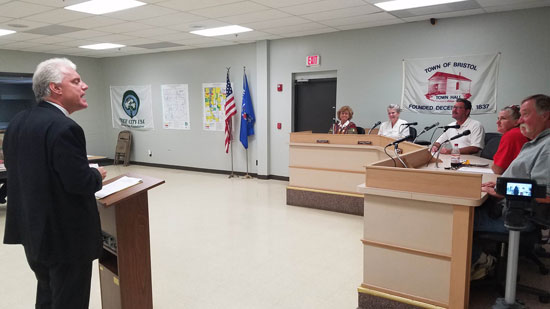 Western Kenosha County may have largely escaped other drug death crises, but opioids — prescription and illegal — are killing West of the I residents at about the same rate as east of the I residents, District Attorney Michael Graveley told the Bristol Village Board Monday.
"I've never seen a drug crisis that had this many people dying," Graveley said. "I've also never seen a drug crisis that had such an impact on the rural part of this county."
Graveley was speaking as part of a tour of Western Kenosha County municipal meetings he has been making in recent week. He also spoke at a Twin Lakes Village Board meeting, and was scheduled to speak at a Paris Town Board meeting Tuesday and a Randall Town Board meeting Thursday.
Graveley said he is making the appearances to talk to elected officials about issues handled by the district attorney's office that are important to Western Kenosha County residents.
Foremost among those concerns currently is the impact of addiction to opioids like heroin as well as legal prescription drugs.
In the last five years, Kenosha County has seen 45 to 50 people die from opioid overdoses, Graveley said. One year, Twin Lakes had six.
Beside the deaths, the opioid crisis has other impacts, Graveley said.
"Virtually every burglary of a home west of the I or east of the I and almost every armed robbery" is related to the opioid crisis, Graveley said.
There are other impacts too, Graveley said. For example, the number of children taken away from children who are unfit to care for them is at a historic high.
Typically the county sees 44 separations of children from parents in a year. This year, the county is on schedule to handle over 90 such cases, Graveley said.
"More kids from west of the I are in the foster care system then I think at any time in history and that's due to addiction issues," Graveley said.
The DA's office is taking a two-prong and contrasting approach as part of how to deal with the problem.
The DA is seeking to get first time opioid offenders out of the criminal justice system if they are willing to undergo treatment, which now can be medically assisted with a drug that removes the urge for opioid addicts, Graveley said.
On the other end of the problem, Graveley said the DA's office and law enforcement are committed to investigating every overdose death with the same attention as a homicide.
"If you bring drugs into this county and you cause someone's death we are going to deal with that as a top priority," Graveley said.
Other subjects Graveley touched on were:
Domestic abuse treatment — Better access to domestic violence counseling has been a "crying need" in Western Kenosha County, Graveley said, mostly because treatment typically has been offered in city locations. Soon there will be a domestic violence counseling option in Salem Lakes and another in Trevor. "We will be able to eliminate the excuse," Graveley said.
Traffic ticket challenges, negotiations — Typically someone who wants to challenge or negotiate a traffic ticket issued by the Sheriff's Department and handled by the DA's office would have to appear at the Kenosha County Courthouse in downtown Kenosha. Soon, there will be a day each month in which people with Western Kenosha County addresses can challenge or negotiate tickets at the Kenosha County Center in Bristol.
School threats — The DA is leading efforts to get a common set of knowledge around school threats. The DA's office, law enforcement, school officials and social workers have undergone training to develop common references points aimed at helping to decide which threats are jokes and which are real. Last school year, there were 25 threats that required assessment.
Here is video of Graveley's presentation: