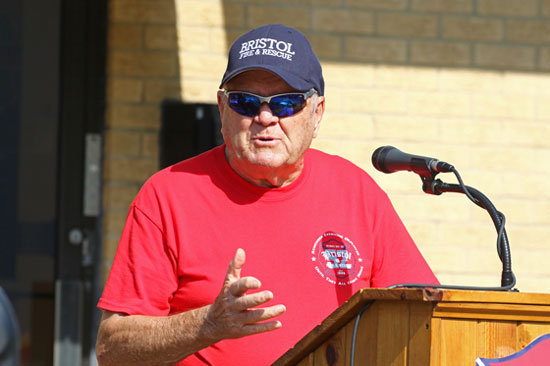 The Bristol Firemen's Association celebrated the 50th year of the Bristol Rescue Squad at this year's recognition ceremony on July 14 at the fire station.
Former Chief Don Wienke was a featured speaker. Wienke received his emergency medical technician certification in 1966. He was the first EMT on the department.
Last year Bristol Fire and Rescue had its highest total number of calls for service, 781. In 2015, the department transitioned from an EMT-Intermediate (I-99) level rescue squad to providing paramedic-level services.
Awards also were presented to several association members:
The Chief Don Weinke Award was presented to Firefighter/EMT Ben Ho.
The Chief William Glembocki Crew Dedication award was presented to Firefighter/EMT/Driver Operator Brad Hole.
Service Awards were presented to:
5 years — Lt. Shaun Ballenger, Firefighter/Paramedic Surae Boeck.
10 years — Firefighter/Paramedic Meghan Keefer.
15 years — Firefighter/Paramedic Ben Kessel, Firefighter/Paramedic Jim Lejcar.
30 years — Division Chief Mike Hole.

Retirees Firefighter/EMT I-99/ Driver Operator Captain Randy Kerkman with 31 years of service and Firefighter/EMT/Driver Operator John Cronin with 33 years of service were recognized. Combined, Kerkman and Cronin ran over 5,000 calls, participated in over 2,500 hours of training, attended firefighter and EMT courses at Gateway Technical College and over the past 30 years were instrumental in the department's success.