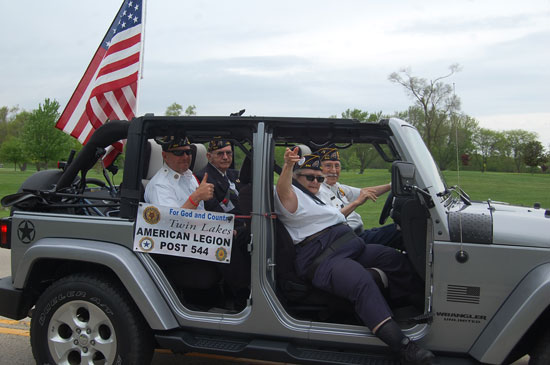 Members of the United States military who made the ultimate sacrifice for their country were remembered with a parade and ceremony in Twin Lakes Monday morning.
The events were organized by American Legion Post 544.
The parade through downtown and out to Legion Park stepped off at 11 a.m. Here is video of the marching bands in the parade from Wilmot Union High School, Lakewood School and Randall School:
After the parade, a ceremony was held at the Legion Post. The National Anthem was performed by the combined Randall and Lakewood schools band. A prayer for the fallen was offered. Retired US Navy officer Janet Geller-Lesko,a member of Post 544, was the featured speaker. The Wilmot Union High School band performed a patriotic musical selection. The ceremony concluded with a wreath laying, a gun salute and the playing of Taps. Here is video of some scenes from the ceremony:
Skies were threatening and the weather forecast foreboding but the rain held out until after both events were concluded.
Here are some more photos from the parade and ceremony: