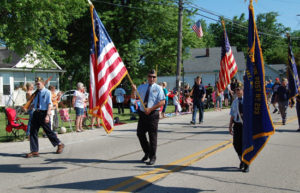 Annual Memorial Day parades and ceremonies will take place this year on Monday, May 27 in Silver Lake and Twin Lakes.
In Silver Lake, Schultz-Hahn American Legion Post #293 will host its annual parade starting at 9 a.m. The parade begins at Prosser Street and Cogswell Drive, proceeds south on Cogswell to First Street, then to Lake Street to Second Street. Following the parade, a Memorial Day Ceremony will take place at the Legion Hall.
In Twin Lakes, American Legion Post 544, Twin Lakes will conduct a ceremony at Mound Prairie Cemetery at 9 a.m., then move to St. John's Cemetery at 9:30 a.m. The annual parade from Lance Park to the American Legion Post in Legion Park begins at 11 a.m., with a ceremony to follow at the Legion post. Parade route is Lance Drive east to Main Street to Lake Avenue, then south to Legion Drive to Legion Park.