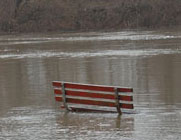 The current National Weather Service forecast for the Fox River calls for the river to be over flood stage by late this week, after another round of over an inch of rain starting Tuesday night and continuing into Thursday.
The river, as measured at the New Munster Gauge, is expected to exceed flood stage of 11 feet by about Thursday afternoon and reach a crest of 11.6 feet early Friday afternoon.
The river could be back under flood stage by Monday evening.