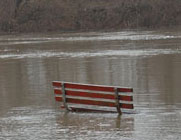 The Fox River as measured at the New Munster Gauge has dropped down below flood stage for the first time since March 13.
The river was measured at 10.99 feet at  9 p.m., Sunday. At 7 p.m., Monday the river was at 10.73 feet. Flood stage is 11 feet.
The NWS flood warning has been removed.
There's no rain in the latest, local National Weather Service forecast for Tuesday and Wednesday. Wednesday night through Saturday will have chances of rain or snow or rain/snow ranging from 20 to 80 percent.