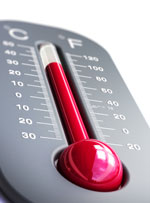 It's been a cold, snowy winter. The cold part seems to have been hanging on longer than is typically a we now enter the second week of March.
But there's some relief ahead, at least for the next week.
The latest, local National Weather Service forecast suggest we have left high temperatures in the teens and low temperatures in the single digits or below zero behind for at least the next week.
Friday's high temperature should reach 35. That will be the coldest high temperature through next Thursday. Next Wednesday and Thursday's highs should be flirting with 50.