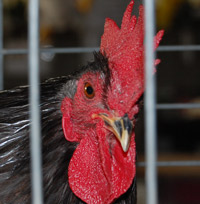 The Salem Lakes Village Board will reopen the discussion of who should be able to keep chickens in the village.
The board decided to put the subject again on its committee of the whole meeting agenda for Feb. 18.
The move comes after a family requested a variance to the current ordinance at a meeting Monday night.
In October, the board decided to retain a two-acre limit for a property on which chickens can be kept.
On Monday, resident Jamie Tackett asked the board for a variance from that ordinance that would allow her family to continue to raise chickens on their 1.69 acre property.
Tackett was recently issued a warning after 32 chickens were found to be living on the property. The village sent a code enforcement officer to the address after receiving a complaint about the chicken keeping.
Tackett said there currently are six hens still on the property. They chiefly use the hens for eggs. When they have surplus eggs they donate them to The Sharing Center, Tackett said. The couple's three children help take care of the animals.
"I think it's a wonderful thing to have as a family," Tackett said.
While Tackett was seeking a variance from the ordinance, village counsel said at the meeting that variances are not allowed. Instead, the ordinance would have to be changed to allow the Tacketts to keep chickens.
Trustee Ted Kmiec pointed out the ordinance included a provision allowing one chicken to be kept per child for showing at the county or state fair. Tackett said it would be useful to allow two chickens per child, so there was a backup bird. Kmiec moved to amend the ordinance to allow two chickens for exhibition, but that failed when the vote deadlocked with Trustees Dan Campion and Denis Faber and President Diann Tesar voting against and Trustees Ron Gandt, Mike Culat and Kmiec voting in favor. Trustee Bill Hopkins was absent.
Tesar said she voted against Kmiec's motion so the issue could get more discussion at the committee of the whole meeting Feb. 18.
The Tacketts were set to receive a citation Thursday for violating the ordinance, but interim village administrator Mike Murdock said he will delay the citation until after Monday's meeting.
Also at the meeting, resident Sharon Pomaville read a letter from resident Peter Poli who expressed support for allowing chicken keeping on smaller lots, restoring the number of chickens that can be kept on two acres to 20 birds and offered to lead a citizens committee to explore the issue.