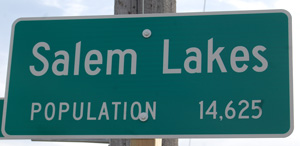 Salem Lakes has a new, interim village clerk after actions taken at Monday's special Village Board meeting.
The Village Board appointed Shannon Hahn interim clerk. Hahn has previously worked for the village and the town of Salem as administrative assistant to the building department and deputy clerk, said village President Diann Tesar.
Hahn's appointment was approved unanimously.
After appointing Hahn clerk, the board approved a motion to terminate the employment of Cindi Dulaney, the previous clerk. The action also was approved unanimously.
Tesar declined to comment on the reason for Dulaney's termination.
Dulaney served as town/village clerk for 11 years, except for about five months after the merger of Salem and Silver Lake into the new village of Salem Lakes when Vickie Galich, who was the Silver Lake village clerk, served as the clerk for the combined municipality. Galich still works for the village in another capacity.
Village clerk is an appointed position in Salem Lakes.
The village will conduct a search for a permanent clerk, Tesar said.