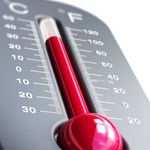 The latest, local National Weather Service forecast calls for a warmer, wet and windy Thursday.
First the temperature. Thursday's high may reach 49 degrees. That won't last, as temps are expected to dip in coming days.
It's already wet out there and it's going to continue with a 100 percent chance of precipitation Thursday. Rain is expected pretty steady from about 8 a.m. to 4 p.m. The chance of rain lessens then, but a slight chance of a thunderstorm actually creeps in from 6 to 8 p.m.  When it's all over, we could see from a quarter to a half inch of rain Thursday.
And it will be windy. Thursday's forecast calls for southeast wind 15 to 20 mph, with gusts as high as 35 mph.