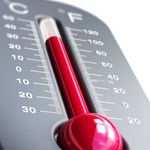 The latest, local National Weather Service forecast calls for a warmer weekend hereabouts.
High temperatures are forecast for 40 on Friday, 44 for Saturday and 45 for Sunday.
The balance of next week should see high temperatures in the high 30s to low 40s, continuing the trend somewhat. There's no real chance of precipitation until rain possible on Wednesday night.
Watch out for areas of fog Friday and Saturday mornings if you're out driving.