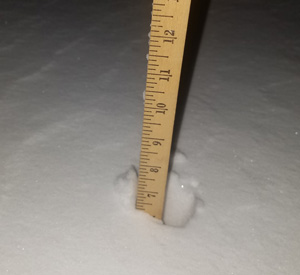 We measured at total of 6.25 inches of snow on the ground at westofthei.com headquarters in Paddock Lake at about 5:30 a.m., Monday. It did not appear that new snow was still falling.
But the wind is still blowing and drifting was evident. We had a drift near a building that was 15 inches deep.
Monday's National Weather Service forecast calls for any remaining snow to end by 8 a.m. The high temperature should reach 29, but wind chill will be a factor with winds continuing in the 15 to 20 mph range with gusts as high as 30 mph.
The blizzard warning in effect since Sunday evening was allowed by the National Weather Service to elapse at 6 a.m.