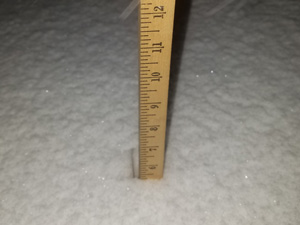 At 10 p.m., we measured 5.25 inches of snow on the ground total for this storm so far at westofthei.com headquarters in Paddock Lake.
We are seeing reports, including in comments on the westofthei.com Facebook page, of higher readings, especially farther south and west it seems.
A blizzard warning remains in effect for Kenosha County, scaled back some in time to 6 a.m., Monday. Overnight snow accumulation of 6 to 9 inches is forecast. Wind of about 20 mph with gusts as high as 36 mph have been recorded at Kenosha Regional Airport, as of 10:23 p.m.
Remember, the NWS says:
A Blizzard Warning means severe winter weather conditions are expected or occurring. Falling and blowing snow with strong winds and poor visibilities are likely. This will lead to whiteout conditions, making travel extremely dangerous. Do not travel. If you must travel, have a winter survival kit with you. If you get stranded, stay with your vehicle."
Anecdotally, the wind was much stronger during the 10 p.m. reading than earlier journeys out.