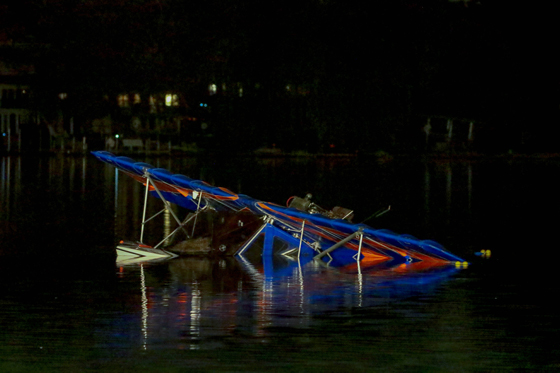 Salem Lakes Fire/Rescue, the Kenosha County Dive Team, and the Kenosha County Sheriff's Department investigated a plane down in Camp Lake Monday evening. At the conclusion of the investigation, Sheriff David Beth provided some more information:
UPDATE about 11 a.m. Oct. 30 — Here is a news release issued by the Sheriff's Department this morning:
On 10-29-18 at 6:17 pm, the Kenosha County Sheriff's department as well as numerous County Fire and Rescue teams responded to Camp Lake in the County of Kenosha for a water call involving a possible small plane crash. Investigation revealed that 78 year old Donald Fechtner from Antioch, Illinois was piloting his ultralight/sea plane and attempted a 'touch and go' maneuver (touch the water with plane, proceed on water, and take off again). Donald stated the hull of the plane broke apart causing the aircraft incapable of taking off again. This resulted in the plane coming to rest in the lake. Mr. Fechter was not injured and walked to shore. A person who lived on the lake drove him home after Donald decided he would remove the plane in the morning. Department of Natural Resources were contacted as well as the Federal Aviation Administration and are both still investigating. The Kenosha County Sheriff's Department are not recommending any criminal charges on Mr. Fechtner who when contacted, confirmed no injury.