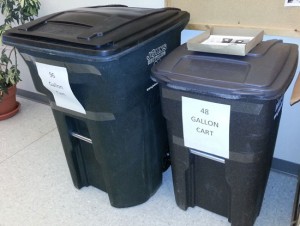 The company that collects garbage in Salem Lakes is proposing a change to how bulk item collection is done there in exchange for a lower rate.
Currently residents of the village are able to have items too large for their regular garbage bin — such as furniture or appliances — picked up on their first garbage collection day of the month by Johns Disposal.
Johns is proposing doing away with the set monthly pickup, replacing it with residents phoning in when they need bulk pickup. There will be no extra charge for called in bulk pickup.
Johns is requesting a 6.1 percent increase to $14.86 per unit for 2019, without the change outlined above. If the village chooses to go with the call in for bulk pick-up option, the per unit rate would be $14.14 for 2019.
Regarding the need for a rate increase or the change in service, John's said in a letter to the board:
Johns has had another excellent year of curbside collection in the Village with nearly 2,000 tons saved from the landfill! Unfortunately, recycling markets have plummeted starting January 1, 2018 when China drastically reduced the amount of recovered materials that are imported. Additionally, the most recent round of tariffs has adversely impacted our business and ultimately your residents.
At a meeting last week, board members seemed in favor of trying the new arrangement, while acknowledging it would requite some resident education.
"I think it's better," said Trustee Ted Kmiec. "You can get all of your stuff out there and then you can call."
A Johns representative is expected to address the change at a meeting next month before the board makes a final decision.
Paddock Lake is considering a similar proposal from Johns. Village Board members there are expected to vote on the change Wednesday night.