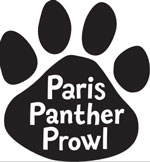 The Paris School Organization's 13th annual Panther Prowl Walk-a-Thon will be held on Saturday, Oct. 13 from noon until 5 p.m. at Paris School, 1901-176 th Ave.
This year's family-friendly event will feature a pig roast courtesy of Kordecki & Sons, Purveyors of Pork. Other attractions include a student walk-a-thon, silent auction highlighting unique and creative items handmade by Paris School students, concessions, 50/50 raffles, bake sale, sponge toss, and free children's face painting and games.
Proceeds from this fun-filled day will support new playground, special programming, and classroom technology upgrades and improvements.
Generous Premier Panther Prowl event sponsors ensure that 100% of student pledges will directly benefit Paris School: Absolute Chiropractic, Berkshire Hathwaway-Laura Woltersdorf, Billingsley Engineering, Birchwood Foods, CK Contractors, LLC, Good Value Pharmacy, Great Lakes Dragaway, Kastenson Auto Service, Mike The Go-To Guy, Northern Plumbing, Point Ready Mix, Rovella Ornamental Iron, Somers Sportsmen's Rod & Gun Club, Westwords Consulting, LLC, Valeo's Pizza, the Wong Family, and Woofman's Lodge. The Paris School Organization also thanks Panther Prowl prize sponsors, Kwik Trip, the Huff Family, and dozens of other local businesses and Paris School families for their support of Panther
Prowl 2018.
Contributions from community members and local businesses are welcomed through Panther Prowl event day. Please contact Beth LaBell, Panther Prowl Coordinator, at (262) 515-3175 to contribute.