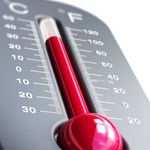 A warmer day than we have had lately is in the latest, local National Weather Service forecast for Wednesday.
The NWS says the high hereabouts should reach 81.
While there will be a 30 percent chance of rain Wednesday during the day, there will be an 80 percent chance of showers — maybe even a thunderstorm — Wednesday night.
Looking ahead, Thursday will be cooler and clear. Rain returns to the forecast Thursday night (60 percent) and Friday (80 percent), and to a lesser degree Saturday and Saturday night (30 percent).