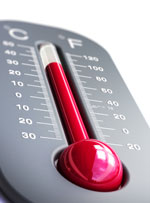 Summer of 2018, in its waning days, appears to be making the best of what little time it has left.
Monday's high temperature is forecast to reach 88, says the latest, local National Weather Service forecast.
Temperatures will cool somewhat after that, with highs in the high 70s to mid 80s forecast for the balance of the week. And something we have not seen much of for awhile — rain — may make a return.
A chance of rain creeps into the forecast Monday night, remains for Tuesday and becomes likely at 60 percent on Wednesday and Wednesday night.