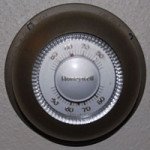 The latest, local National Weather Service forecast suggests Wednesday will be rainy you should be able to turn off the AC this weekend.
There's an 80 percent chance of rain Wednesday, which might also involve a thunderstorm or some fog. The chance of rain will lessen to 50 percent Wednesday night.
The high temperature Wednesday should be 78, but it should bounce back to 88 on Thursday. However, Friday will begin a dip in high temperatures, with a high of 70 Friday, 69 Saturday and 75 Sunday. There's no chance of rain, yet, in the weekend forecast.