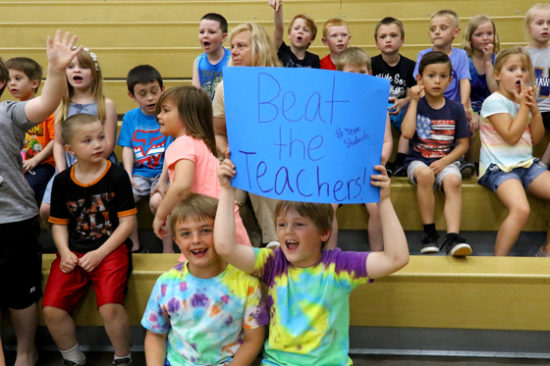 The Wheatland Center School faculty-student basketball game, which has been an annual event for decades, took place Friday afternoon. It was the second spirited competition in the last two weeks. The other was Penny Wars. Everyone collected pennies to give to Herda family after the large fire at their farm. The amount they raised was revealed at halftime.
Ryan Denko came up with the idea. He was part of a leadership class last year. They had a make a wish project last year. The schedule didn't allow for a leadership class this year, but those still at Wheatland have continued on their own time. The ones from that class ran the Penny War.
The approximately 500 students who attend Wheatland raised an average of $6 a child. That's 573 pounds of coins. Community State Bank counted all the change and added to the fund set up for the Herda family.
4K won the pizza party. To win, you had to have the most points. Pennies were points. Any other money was negative points. Kids would put money on the account of another class to count against their points.
It's the biggest fund raiser they've had.
Here's a video from the event:
Here are more photos (Photos by Earlene Frederick):