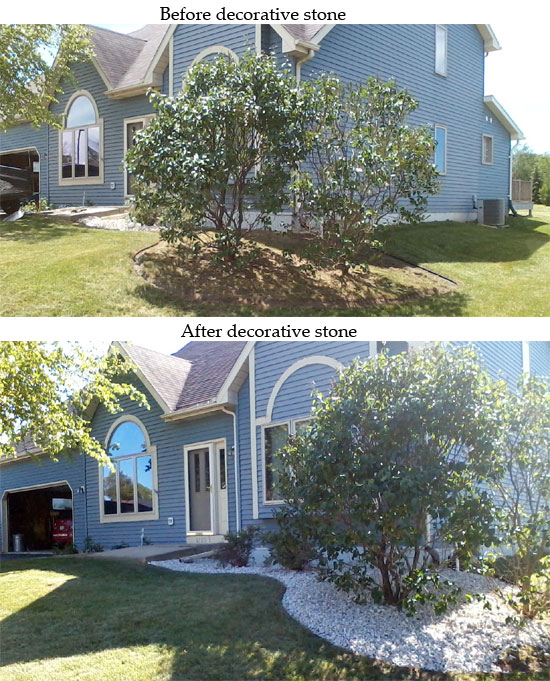 Note: All-Star Lawncare is a westofthei.com sponsor. This is a paid announcement. — DH
Now is the time to take needed steps to achieve and maintain a beautiful lawn. Aerating is the first priority to ensure nutrients and water can reach the soil to help roots grow deep and produce a strong, lush lawn.
"Applying time-released fertilizer doesn't do any good for your lawn or the environment if it leaves the property in runoff during spring rain," Mike Rozell, owner of All-Star Lawncare, said. "Aerating opens the soil and helps prevent the fertilizer from being washed away."
Spring is also an ideal time to freshen up the yard with decorative loose stone and wood mulch, which beautify your landscape and make outdoor spaces more enjoyable for you and your guests. Stone has the added benefit of improving drainage while mulch helps maintain moisture in flower and plant beds.
"By using decorative stone and wood mulch you can both decrease maintenance and increase curb appeal," Rozell, said.
Using mulch also reduces weed growth and helps maintain soil temperatures suited to growing healthy plants and flowers. It comes in a variety of styles and colors to compliment any landscape.
Both stone and mulch can be used to create pathways and encircle trees, in play areas, or as a border. Using mulch and stone together creates a dramatic, multi- textural look. Larger rocks are great for areas prone to collecting debris, while smaller stone is more pedestrian friendly, Rozell said.
"You can use landscape stone nearly anywhere you use mulch," Rozell said. "Stone does cost a bit more. But, in the long run, it reduces the cost of maintenance. You don't have to refresh stone."
All-Star Lawncare can help you decide which material is best for your landscape, cut a fresh edge and grow a lush lawn.
Call or text Mike at 262-332- 9287 for a free consultation and estimate. To see more before and after photos, visit All-Star Lawncare on Facebook.