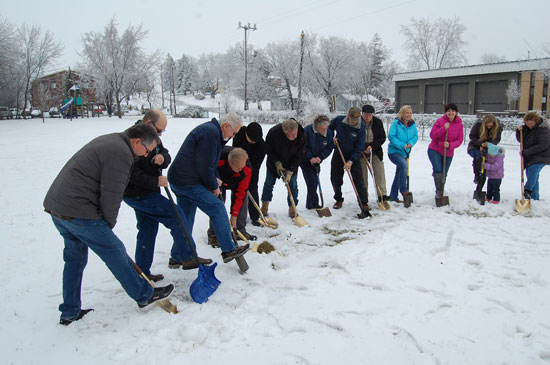 The Bristol Wisconsin Historical Society held a groundbreaking at Firemen's Park for its upcoming move of the old town hall to that site and surprised a pair of its strongest supporters in the process.
The old town hall building, currently in its original location along Highway C in Bristol Woods County Park, is scheduled to be moved to Firemen's Park in the 8300 block of 198th Avenue, across from the current municipal building, on April 24.
On Sunday society members and supporters celebrated getting the project under way.
John McCabe, a village trustee and one of the original forces behind using the town hall again in a historical context, gave a rundown on the process so far and then presented the big surprise of the afternoon — a plaque that will go on the building naming it "Davidson Hall," in recognition of the support for the project from John and Shirley Davidson.
John Davidson, long know for his support for preserving local history, said he was surprised by the naming of the hall. He said he had decided to give a loan to the society to speed along the hall moving project. He hopes the building will become the repository for some of his many local historical artifacts.
Though the society has been doing fundraising toward the goal of moving the hall, McCabe credited Davidson's loan for cutting years off of actually being able get the hall moved. The move project is costing an estimated $77,000.
After McCabe's remarks and the presentation of the plaque, the audience of about 30 people went out to the park. Anyone who wanted to was invited to turn over a few shovels of dirt for the symbolic groundbreaking.
Among those in attendance were state Rep. Samantha Kerkman, who praised the efforts of the society and those who established Bristol in the fist place.
"I have to thank our forefathers for their vision," Kerkman said.
Though the old town hall building is likely a place many have never seen up close before, one person in attendance was very familiar with it and he said he could still remember being there like it was yesterday.
"We used to have our 4-H meetings there, 70 years ago," said Lloyd Nelson
Here is some video of McCabe's remarks and the groundbreaking afterwards:
Here are some more photos: