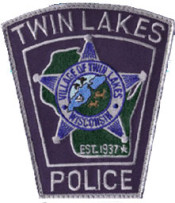 Twin Lakes Police Chief Adam Grosz would like to eliminate a lieutenant position and replace it with two sergeants within his department's supervisor structure.
Grosz outlined the advantages of his plan at the Twin Lakes Village Board committee of the whole meeting Monday.
Grosz said the lieutenant position is structured as an administrator, however he feels administrative duties can be handled by the chief and captain.
What there is a need for, he said, is on the street supervisors who can make informed decisions. The new sergeants would work second and third shift.
"I think it will make the police department operate more efficiently," Grosz said.
At one time the department had sergeants, but problems arose because those individuals were in the same union as the patrol officers.
Trustee Tom Connolly, a retired firefighter for a department in Illinois, said he understands the problem because he once was a lieutenant on a fire department in the same union as  firefighters.
"It's hard to discipline someone you are in the same union with," Connolly said.
Grosz proposes having the sergeants this time not be in a union or having their own union.
The change is supported by the patrol officers' union, Grosz said, because it will create additional opportunities for professional advancement.
If implemented, the sergeants positions will be filled internally with no increase to the total number of officers on the force, Grosz said.
No board members expressed any objections to the change.