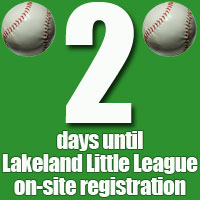 Note: This is a paid announcement by Lakeland Little League. — DH
Lakeland Little League will be holding an on-site registration at Americas Action Territory on Feb. 15 from 5 to 9 p.m.
Board members will be present to register new and returning athletes for the 2018 season. Americas Action Territory has also graciously offered to donate a portion of its profits generated from club members during the registration drive. All Lakeland Club Members are invited to stop in for a night of fun.
More information about Lakeland Little League baseball and softball programs available here.
Americas Action Territory is located at 12345 75th St., in Bristol