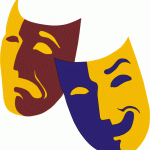 Christian Youth Theater's (CYT) production of Disney's Little Mermaid Junior will be presented this weekend at Wilmot Union High School.
Show dates and times are; Feb. 9 at 7 p.m.; Feb. 10 at 2 and 6 p.m.; and Feb. 11 at 2 p.m.
Christian Youth Theater is a non-profit theater arts education program for kids ages 5-18. It offers classes each year in 12 different areas across Northern Illinois and Southern Wisconsin.
Wilmot Union High School. is located at 11112 308th Ave., Wilmot.