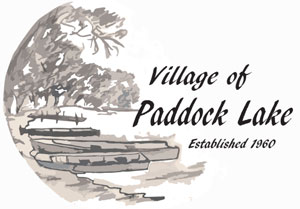 Note: The village of Paddock Lake is advertising this position with westofthei.com. This is a paid announcement. — DH
The Village of Paddock Lake is seeking applications for the full time position of Public Works/Utility Worker. The position will be responsible for day to day operation, maintenance and repair of facilities, roads, parks, waste water operations and seasonal snow removal.
General work schedule is Monday through Friday between the hours of 7:00 am to 3:30 pm. This is an hourly non-exempt position with a rotating "on call" schedule outside of regular business hours. Preference will be given to applicants with Wisconsin Department of Natural Resources water and/or
wastewater certification.
Valid commercial driver's license is required at the time of application or be obtained within 90 days. Successful applicant must pass a fit to work physical and drug/alcohol test.
The village of Paddock Lake offers an excellent benefit package, including vacation, sick time, paid holidays, health insurance, retirement and deferred compensation program. Copies of the full time job description, a summary of the benefits and requirements are available at the time of application.
Applications are available at the Village Hall at 6969 236th Ave. Application deadline is Friday, February 16, 2018 at 4:30 pm.
Village of Paddock Lake is an equal opportunity employee