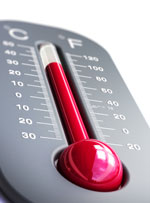 At about 10 a.m. Thursday, it's going to feel a little like a spring day, with a temp of about 57 degrees.
By 6 p.m., we will be reminded that it's January with a temperature that has plunged into the 20s and freezing rain and maybe even some snow making the roads slick. Eventually the low is expected to drop to 16 degrees overnight.
The latest, local National Weather Service forecast paints this volatile picture of Thursday's weather.
And it will continue to be cold after Thursday's up and down is over. Friday's high may reach 22 but highs through Wednesday are expected to be in the teens.