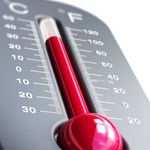 I'm not sure you can say we will have nice weather the next few days but it will be warm.
Thursday's high temperature is expected to reach 52 in the latest, local National Weather Service forecast. Wednesday's high will be 45.
But there's a price to pay for the mild temps. Wednesday's forecast includes "patchy drizzle or freezing drizzle before 7 a.m., then patchy drizzle between 7 a.m. and 9 a.m. Areas of fog. Otherwise, cloudy …" What a lovely day.
Thursday, there's an 80 percent chance of rain.
Despite the wet, enjoy the warmth while you can. Starting Friday, high temperatures are expected to be back in the 20 and teens.