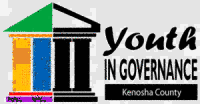 Nominations are now being accepted for the 2018-2019 Kenosha County Youth In Governance program.
Youth who are selected to serve will gain instrumental leadership skills and knowledge from having the opportunity to serve on one of the seven County Board committees.  These skills will help take them far into their academic and personal careers.
The requirements to participate in Youth In Governance are:
Youth must be a high school student in 10th or 11th grade.
Youth must have a GPA of 2.5 or greater.
Youth must be a Kenosha County resident.
Youth must be able to attend the monthly meetings of their committee.
Youth must attend at least one Kenosha County Board meeting during their term.
Youth must participate in the YIG Bus Tour held the last Wednesday in June.
Youth must be able to attend additional committee meetings that are combined with other committees.
If you have outstanding and motivated young people in mind, please consider nominating them for this program. Information about the program and a nomination form can be found here.
Nomination forms are due by Friday, Feb. 2.
All youth who are nominated will receive a letter indicating that they have been nominated for Youth In Governance and an application.  If they are interested, they must complete the application.  Applications are reviewed and youth will be selected for face-to-face interviews with the Kenosha County Board of Supervisors Planning, Development & Extension Education Committee.  The committee then makes recommendations for Youth In Government participants to the Kenosha County Board Chairman.  All Youth In Governance members are appointed by the Kenosha County Board Chairman.