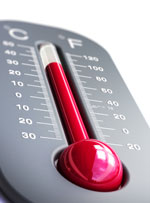 The bitter temperatures Western Kenosha County has seen since around Christmas Day may ease a bit — and just a bit — by this weekend.
The National Weather Service latest, local forecast for the rest of the week is familiar: Highs in the single digits or very low teens and lows below zero.
The long range forecast for Sunday offers some hope. Sunday's high temperature is forecast for 31.
It will seem sweltering if it reaches that point.