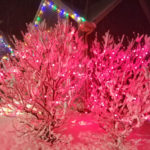 We're going to get snow at least on Christmas Eve, says the latest, local National Weather Service forecast. The only question is whether it will be enough for your individual taste of what constitutes a white Christmas
With a chance of snow at 100 percent (in fact some light snow is falling in Paddock Lake as I write this at 8:40 a.m.), the forecast calls for 1 to 2 inches of accumulation. Snow fall should be the heaviest between 9 a.m. and 1 p.m.
Whatever snow we get should stick around on the grass and wherever with a high Sunday of 22 and a high on Christmas Day of 18.
In fact, temperatures are set to plunge after Monday with a highs Tuesday of 7 and 11 on Wednesday.