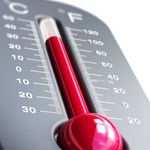 We should see some mixed up precipitation Thursday and Friday followed by a plunge in temperatures starting this weekend, says the latest, local National Weather Service forecast.
Various combinations of drizzle, snow and freezing drizzle are possible later Thursday, Thursday night and Friday morning.
While high temperatures will remain in the mid 30s those days, it's going to get colder — much colder — by the time the holiday arrives.
The high temperature for Christmas Day on Monday will be 18. Tuesday's high is forecast for 14. Tuesday's low could dip to 6.