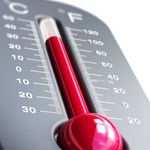 The latest, local National Weather Service forecast calls for a string of high temperatures that you may not recognize as the week before Christmas in Wisconsin.
As pleasant as that might sound, the longer range forecast says we may be hit with some unseasonably cold weather after this warm spell.
First, the good news. High temperatures are forecast to be in the 40s on Monday, Tuesday, Thursday and Friday this week. Friday's high may reach 48. What about Wednesday? It will be a little cooler at 34. Lows will be in the mid 20s to the mid 30s through this period.
The greatest chance of precipitation — rain at these temperatures — will be Thursday night and Friday at 50 percent.
After we are all getting used to springtime in December, temperatures are expected to plunge. No details yet, but the NWS put out this statement saying readings 10 degrees below normal are probable, starting about Christmas Eve.
Enjoy it while you can.