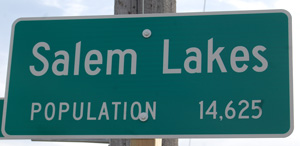 Salem Lakes Village Board members expressed support for pursuing a strategic plan for growth at its regular monthly meeting Monday.
Board members speaking about the matter said they would want to see all hamlets and potential commercial corridors along Highway 50 and Highway 83 addressed.
"I think what we need to start the thought process," said Trustee Bill Hopkins.
Village administrator Patrick Casey said he has had some preliminary talks with the village's designated planner about such a study and he will now get further details and return to the board for direction. Potentially, the board might have to hire a different firm for the task.
"I think it's a great idea that we move it forward," said Trustee Dan Campion.
"We've talked about it enough," said Trustee Mike Culat. "Time to get it done."
Trustee Laura Francart, who is the Village Board member on the Park Commission, said some work for future park planning needs is already underway by the commission.