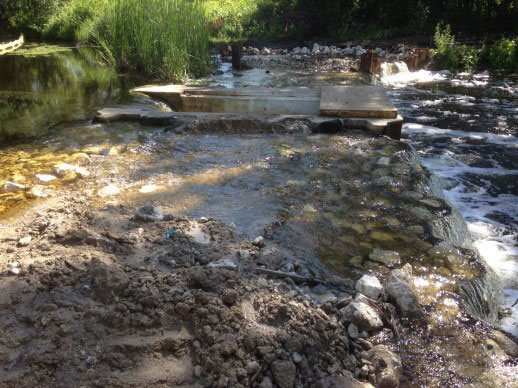 Water levels and related topics including ice damage to shorelines will be the subject of studies commissioned by the Twin Lakes Lake Protection and Rehabilitation District commissioners.
One study will be performed by village engineering firm Town & Country Engineering. The cost will be no more than $4,000, as approved at a meeting of the lake commission (which is also the Village Board) at a meeting on Nov. 20. That study will evaluate the effects of the reconstructed spillway versus the original removable weir board structure, including the performance during both summer and winter conditions.
The other study will be performed by Southeast Wisconsin Regional Planning Commission to evaluate water levels, ice damage, weather patterns since 2000 and to update the Lake Management Plan in an amount not to exceed $13,000. The village will seek a Wisconsin Department of Natural Resources grant to cover the cost of the study.
At the annual lake district meeting this year, residents asked the Lake District to study whether the weather and/or the spillway have anything to do with ice damage they have seen to shoreline, villafe administrator Jennifer Frederick said.
The current spillway was completed in 2014 with a fixed height. It replaced a structure that was adjustable. It is located in Illinois surrounded by private property though the village owns the structure proper.
Both studies were approved unanimously by the commissioners, with Aaron Karow absent.