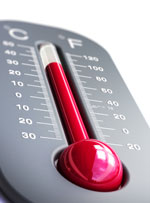 If you enjoyed Friday's unseasonably warm temperatures you're in luck. Monday and Tuesday will be warmer than typical as well, says the latest, local National Weather Service forecast.
Monday's forecast high is 58 and Tuesday's is 54.
While not quite that warm, the balance of the week is forecast to have high temperatures in the 40s.
The greatest chance of precipitation comes Thursday, with a 60 percent chance of rain.