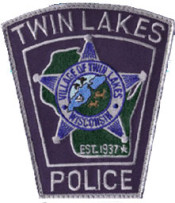 The names of the two Twin Lakes brothers who died in a shooting outside a Twin Lakes bar early Friday morning have been released.
Richard Samuel, 28, was dead at the scene in the 400 block of South Lake Avenue in Twin Lakes. Kenneth Samuel III, 31, died at Burlington Hospital.
The name of the suspect in the shooting has not been released. He is in custody in Kenosha County after being arrested in Monroe County Friday.
At just before 2 a.m. Friday, the Twin Lakes Police Department received a 911 call for a shooting occurring outside a bar in the 400 block of S. Lake Avenue in Twin Lakes. Officers  found Richard Samuel was deceased in the parking lot behind the bar with multiple gunshot wounds. Kenneth Samuel was found in the same location with gunshot wounds. He was transported to Burlington Hospital.
The suspect fled the scene prior to officers' arrival. He was identified by witnesses at the scene as a 25-year old male with a last known address in Trevor.
Related posts
UPDATE: Second Twin Lakes shooting victim dies; suspect in custody