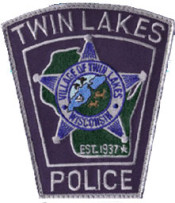 The second victim of a shooting in Twin Lakes early Friday morning has died, Twin Lakes Police report.
The suspect in the shooting also has been located near Tomah and is in custody.
From a TLPD news release:
The second victim, (31 year-old male) has died at Burlington Hospital. A 25 year-old male suspect from Trevor, WI has been taken into police custody without incident. He was located by the Monroe County Sheriffs Department and Wisconsin State Patrol traveling north on Interstate 94 near Tomah, WI. The names of the victims are being withheld at this time pending notification of family members. Investigation by the Twin Lakes Police Department is ongoing.
At about 2 a.m., the Twin Lakes Police Department received a 911 call for a shooting occurring outside a bar in the 400 block of S. Lake Avenue in Twin Lakes. Officers  found a 28 year-old male was deceased in the parking lot behind the bar with multiple gunshot wounds. A second, 31 year-old male was found in the same location with gunshot wounds. He was transported to Burlington Hospital.
The suspect fled the scene prior to officers arrival. He was identified by witnesses at the scene as a 25-year old male, last known address in Trevor.
Related posts