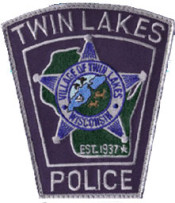 Two men were shot and one died in Twin Lakes early Friday morning.
The shooting suspect has been identified by witnesses, but was not in custody yet, a news release from the Twin Lakes Police Department issued at 5 a.m. said.
The victims' and suspect's names have not been released by the police department.
Here is the news release (Note: Omissions identified with  ellipses are to comply with our location policy — DH):
On Friday, 11/24/17 at 1:59 a.m., the Twin Lakes Police Department received a 911 call at 402 S. Lake St … for a shooting occurring outside, behind that establishment. When officers arrived they found a 28 year-old male was deceased in the parking lot behind the … bar with multiple gunshot wounds. A second, 31 year-old male was found in the same location with gunshot wounds. He was transported to Burlington Hospital, his condition is currently unknown. The Kenosha County Medical Examiner's Office responded to the scene. The suspect fled the scene prior to officers arrival. He was identified by witnesses at the scene as a 25-year old male, last known address in Trevor. The Kenosha County Sheriffs Department is currently responding to his last known address to attempt to take him into custody. Witnesses at the scene said there was some sort of altercation between the victims and the suspect before the shooting occurred. At this time this appears to be an isolated incident.