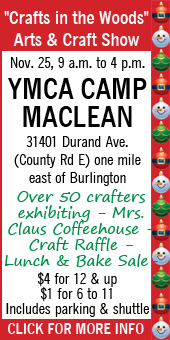 Note: YMCA Camp MacLean is a westofthei.com sponsor. This is a paid announcement. — DH
YMCA Camp MacLean will host the 24th annual "Crafts in the Woods" arts and crafts show on Saturday, Nov. 25 from 9 a.m. to 4 p.m.
Over 50 crafters will be exhibiting in William L. Rust Lodge and 21 cabins.
Admission is $4 ages 12 and Up and $1 ages 6-11. Admission includes parking and shuttle.
Don't Mrs. Claus' Coffeehouse with cakes, candy and treats. There also will be a craft raffle and lunch and bake sale.
Proceeds from the sale help fund the summer camp scholarship program.
YMCA Camp MacLean is located at 31401 Durand Ave (County Highway E), one mile wast of Burlington.
Come spend the day "In the Woods."